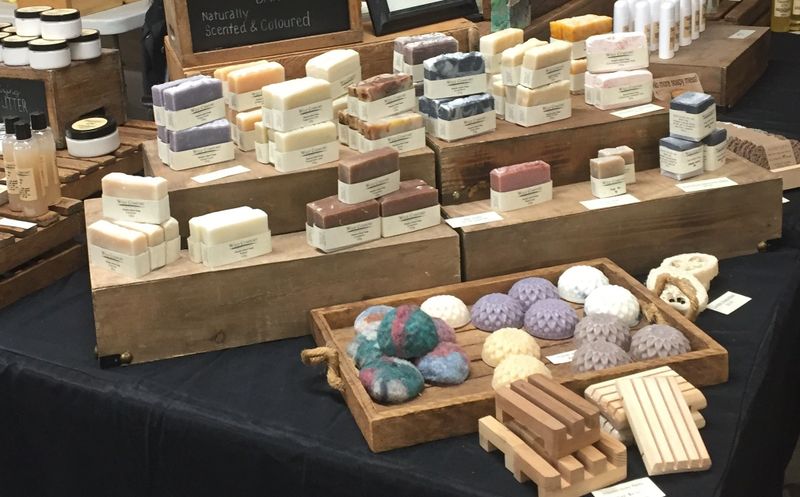 When I took a leave of absence from a career in the mental health field, I had no idea how it would change my life. I vowed to do something creative every day of my 90 day leave to tap into a part of me that had been neglected by a career and busy household. On one of those occasions, I made soap. It was so cool to see how using lye as a catalyst would cause oil and water to mix.
I had no intention of leaving the mental health field, but through my time away the gears shifted and a decision was made that would set the course of my career on a completely new path. I decided I would not return to work. Instead, I was going to continue discovering my creative side.  It was through the creative process that I found solace and joy.  My mom's advice to "Do what you love" was great advice.
Wild Comfort Body Care, a company focused on natural skincare was launched in October 2014.  Using natural ingredients, I handcraft soap, moisturizers, deodorant and many other skin and hair care products.
That first bar of soap was a simple one. I gave it to my mom and a few other family members for Mother's Day. Their appreciation for it inspired me to begin researching, experimenting and learning.   I started reading labels and discovering ways to make skincare products with natural ingredients.  My colouring and scenting is done using herbs, botanicals, honey and essential oils.   One by one I replaced our regular skin and hair care products with my own formulations. 
I love experimenting and developing a formulation that is natural and performs well.  It takes a significant amount of trial and error and it is part of the creative process.  I am happy with a formulation when it does what it is intended to do as good or better than what is currently on the market.  Customer feedback is an important part of product creation.  Each product is tested by a selection of potential customers before taking a product to market. Because of this it can take up to a year to take a product from concept to being for sale. 
Relationships are central to me. I love the connections I make with people through my products.  Whether it is face to face at our shop, at local markets or online, I love to hear people's stories, encourage them, and serve their needs. In many ways it is juxtaposed to a career in mental health, but I have discovered the rewards are very similar.
In spring of 2017 Jeff and I took possession of a broken down, worn out property on Gunn's Hill Road, just outside of Woodstock, and began the process of giving it new life.  When the opportunity presented itself, we knew it would take vision and a lot of hard work to make this our home, and a new home for Wild Comfort Body Care.  Wild Comfort now has a small retail space and workshop. 
I welcome you to come visit. It is my hope that as you get to know me through Wild Comfort products or a visit in person, you are inspired to experience your own wild comfort journey, a journey defined by solace and just a bit of the unexpected.
Danielle Paluska